So, once upon a time (last year), I received an email from an organization called
Share Our Strength
. They were having this thing called the
Great American Bake Sale
, where they mobilize people across the country to have bake sales with proceeds going to ending childhood hunger, and could I post about it on my blog?
Well, I'm never one to turn down a food-related charity -- it is, after all, the only way I can really balance out the food indulgence that is my everyday life. And I do love baked goods. So, I thought to myself, yeah, I can sink into my bed and write about this thing, but why don't I also get up and actually have a bake sale? So, several accomplished, well-connected, and food loving friends, an inventive ice cream man with a heart of gold, and a million emails later,
No Cookie Left Behind
was born. The enthusiasm for our little bake sale floored me at every step. Before we knew it, we were getting nods on
DailyCandy
and
KCRW's Good Food
, and all over blogland (what? i just don't feel like saying
blogosphere
.) The good vibes that we felt on what may have been the hottest day in the universe spread from vegan bicyclists to merciful parking enforcers. Through the glory of banana bread, lemon bars, and many pink cupcakes, we were able to raise over $1500, easily surpassing our goal of $1000.
And Saturday, June 28, the No Cookie Left Behind Bake Sale and Hootenanny is back!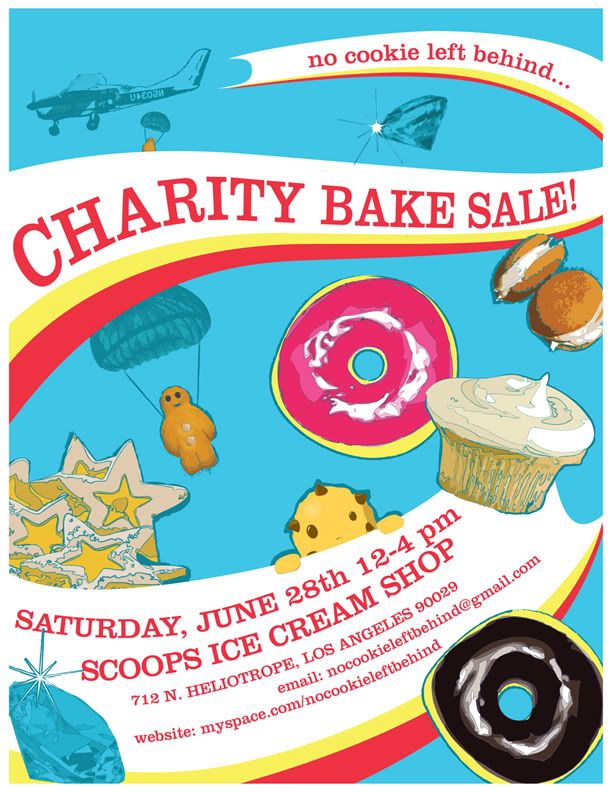 Please join us again at Scoops for even more deliciousness and good times! This year's offerings include
banana caramel cake
, homemade chocolate peanut butter cups,
chocolate Guinness cake
, dozens of cupcakes,
lemon bars
, zucchini bread,
sweet almond bread
, a wild mushroom tart,
many mini banana bread loaves
,
Spork Foods
vegan cookies,
Paulette macarons
,
Lark Cake Shop
cakes, and much, much more.
And if all that is not enough incentive, come for the ice cream. After all, it's Scoops! And if it's still not enough... well, clearly you're dead inside. Sorry.
But if you want to
make a tax-deductible donation
, maybe you're not dead inside after all. In fact, you're awesome and we love you. And
if you love to bake
, we'd love you even more if you contributed something: just
drop me a line
.
Here are some
bake sale
photos
from last year to whet your appetite. Hope to see you on the 28th! (And if you do come by, do introduce yourselves! No Cookie Left Behind is also about community.)